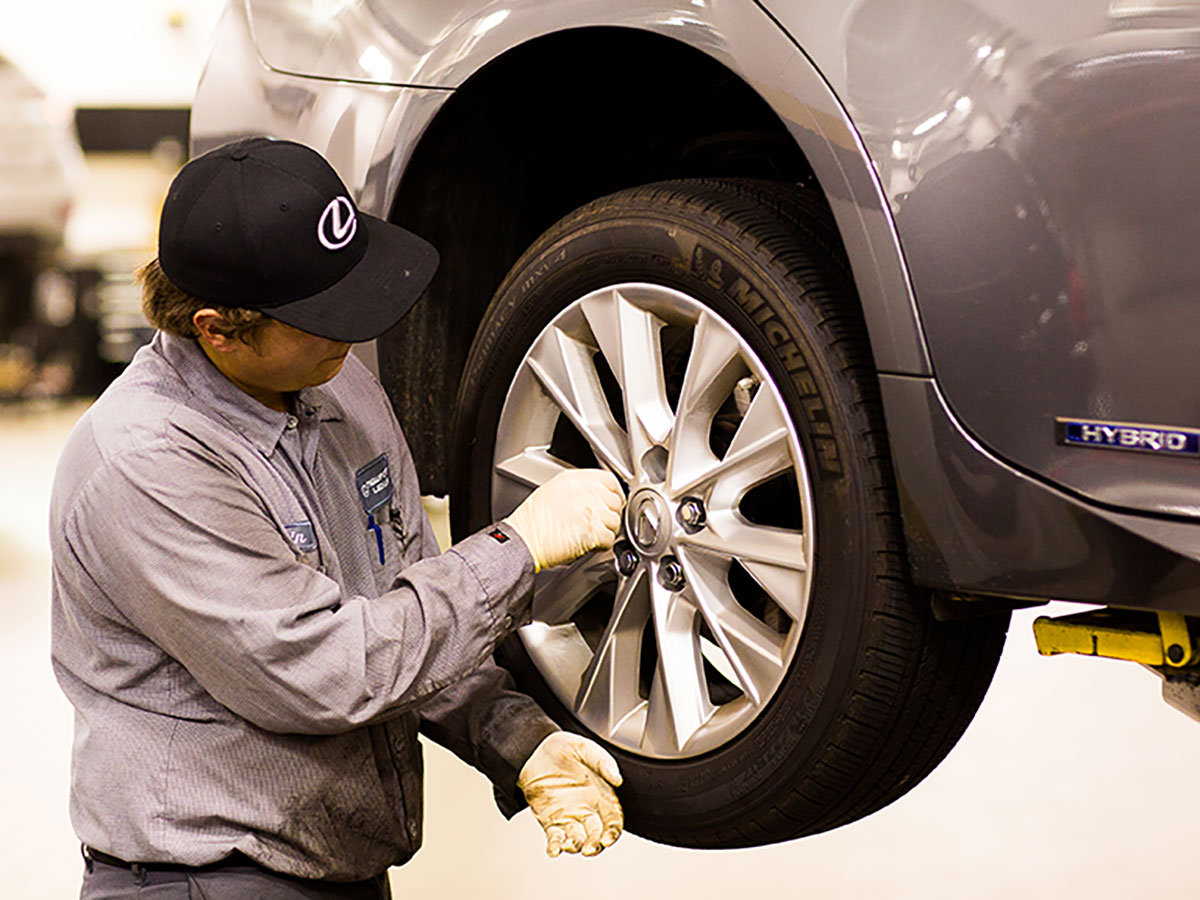 Lexus Tire Rotation in Columbus, OH
Rotating your tires is one of the most important vehicle maintenance services you can get. By rotating your tires according to the brand's guidelines and your model's owners manual, you will ensure that your tire wears evenly, lasts longer, and provide you with the traction you need. Germain Lexus of Easton Service Department provides tire rotation service to anyone who needs it and many other tire-related services. We can help ensure your vehicle keeps rolling smoothly in the greater Columbus area.
Best Practices For Tire Rotation
With modern tires, fewer people are aware of the nuances of old-time tire maintenance. Still, tire rotation is one best practice all should maintain to keep motoring safely and efficiently. Consider having your tires rotated as part of your regular maintenance visits, such as during your next oil change. Rotation is recommended every 5,000 to 7,500 miles, so it is a good fit for these routine calls. Always refer to your owner's manual when checking for the proper time to get your tires rotated.
How Are Tires Rotated?
Service technicians will relocate your front tires to your vehicle's rear and the rear tires to the front with tire rotation. Your rear tires rotating to the front may also be transitioned from the left to the car's right side.
Why Do I Need To Rotate My Tires?
Tire rotation is considered crucial because it helps your tires wear evenly, increasing the tires' lifespan. Rotation also creates greater balance for the vehicle and can improve handling. By rotating your tires, you will minimize any gentle drifts you notice with your car, such as a subtle pull to the right or left. With front-wheel drive vehicles, the front tires inevitably sustain more wear naturally. A rotation helps neutralize this uneven wear by putting less worn back tires on the vehicle's front. The process is also a condition in many tire warranties. If you are buying high-mileage tires, you want to maximize your warranty by maintaining the terms.
Where Should I Get My Tires Rotated?
By having your tires rotated at an authorized Lexus location, such as Germain Lexus of Easton, you ensure you are receiving the best service possible for your car. A Lexus dealer is up to date on vehicle-specific warranties and ready to discuss any recalls that may have popped up since your last visit. Our technicians are prepared to help you! Schedule your appointment or give us a call today!
Service Hours
Monday

7:00 am - 6:00 pm

Tuesday

7:00 am - 6:00 pm

Wednesday

7:00 am - 6:00 pm

Thursday

7:00 am - 6:00 pm

Friday

7:00 am - 6:00 pm

Saturday

8:00 am - 4:00 pm

Sunday

Closed