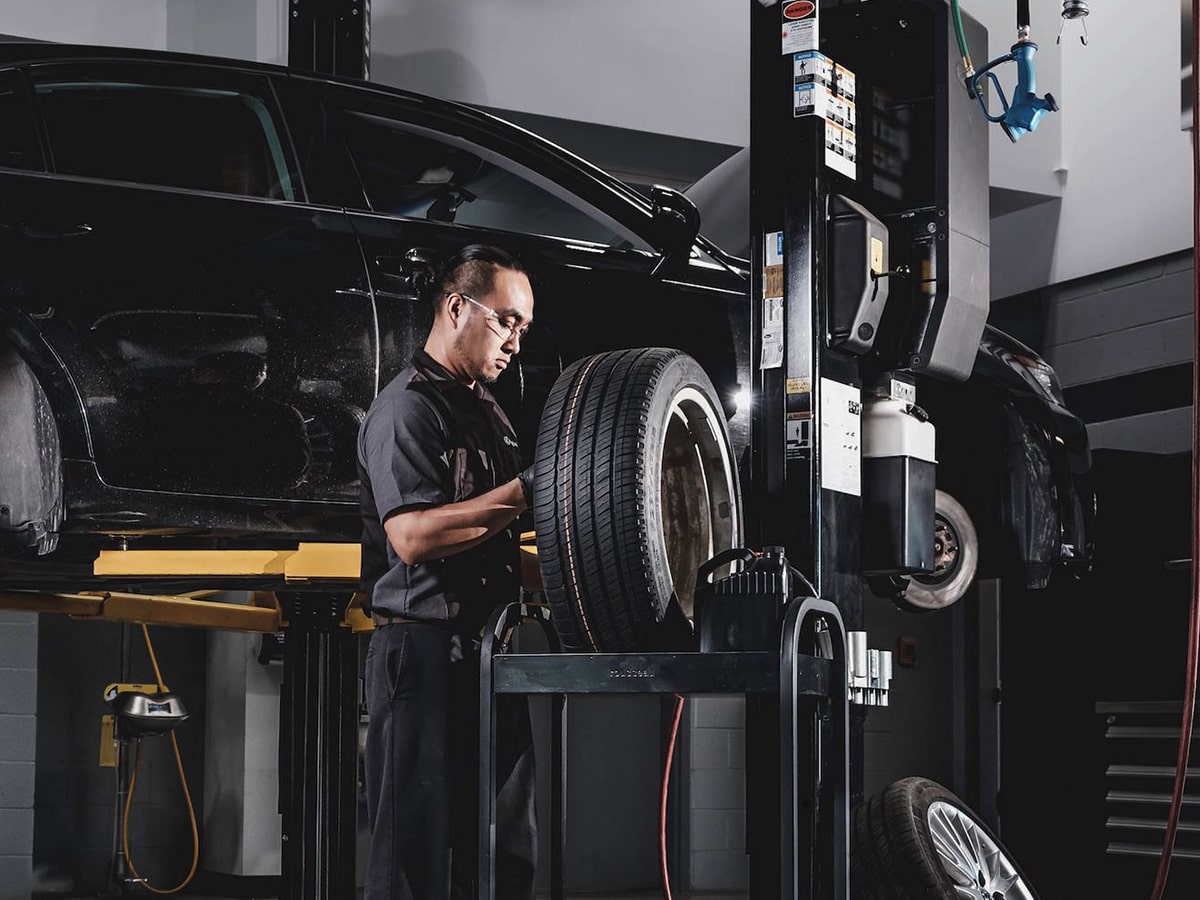 Reliable Lexus Tire Balancing Service in Colombus, OH
Tire balancing is one of the most important components of comprehensive scheduled car maintenance. Your vehicle's wheels are never balanced, all around. Between day-to-day travel, your car's luggage and even the weather, slight tire deviations occur over time.
It's important to get your vehicle inspected for these deviations, as even slight imbalances can result in your car's damage over time. Here at Germain Lexus of Easton, we provide in-depth tire balancing services to assure your vehicle's efficiency, safety, and longevity.
What is Tire Balancing?
Tire balancing is the equalization of your tires' individual weights on their assembly. This service allows them to spin smoothly, and evenly, at high speeds. Over time, your tires lose small amounts of air. While simply driving can result in air loss, a surprising amount of air is lost through each wheel's valve stem hole.
Your tires also have pre-existing weight imbalances, too, due to joining points of the cap flies. Slight wheel shape deviations can also cause balancing issues over time. While minor imbalances aren't too dangerous, driving at high speeds can make these imbalances much worse.
How to Identify Imbalanced Tires
Imbalanced tires tend to wobble or hop, around slightly. This causes vibration. In some cases, you can feel this vibration through your steering wheel while you drive. If a back tire is imbalanced, you might notice a vibration in your seat-or even along the floor.
How are Tires Rebalanced?
Tire rebalancing happens quite a lot-so the methods used for rebalancing are both effective and efficient. Your service provider puts your vehicle's wheel-tire unit on a balancing machine. This machine measures each tire's lighter, and heavier, areas with pinpoint accuracy.
Once each tire's weight is measured, the technician can add or remove weight to each tire to assure a perfect balance between them.

Contact Our Columbus, OH Tire Center Today
If you're feeling unnatural vibrations in your vehicle when driving, there's a good chance you have a tire balancing issue. If this is the case, don't wait to get your vehicle diagnosed. When left unchecked, imbalanced tires can become damaged-wearing down your car's suspension and inner components.
To keep your car optimized, safe and efficient, contact the professionals of Germain Lexus of Easton. We serve drivers across Canal Winchester, New Albany and Reynoldsburg, OH, providing long-lasting tune-ups, repairs and replacements alike.
Stop by our tire center to get your vehicle inspected, and don't hesitate to ask our team about your vehicle.
Service Hours
Monday

7:00 am - 6:00 pm

Tuesday

7:00 am - 6:00 pm

Wednesday

7:00 am - 6:00 pm

Thursday

7:00 am - 6:00 pm

Friday

7:00 am - 6:00 pm

Saturday

8:00 am - 4:00 pm

Sunday

Closed