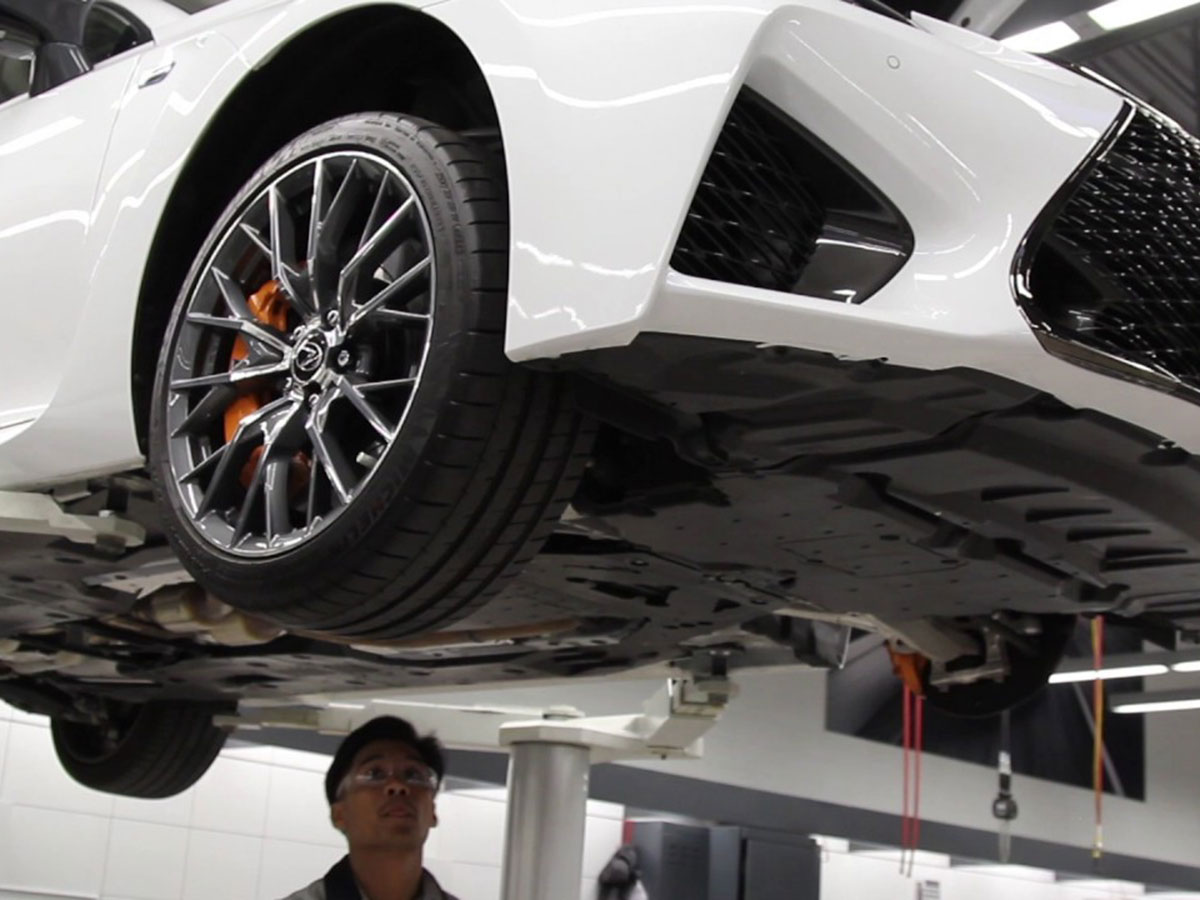 Lexus 4-Wheel Alignment
Wheel alignment is a term used to describe the three angles by which the wheel-tire assembly meets the steering and handling system. Wheel angles are evaluated and reset during alignment service. They are called the camber, caster, and toe. When the three wheel angles are at factory specifications, the goal of wheel alignment is achieved with opposing wheels operating parallel to each other while each tire meets the earth at a perfect 90-degree angle. When the goal of wheel alignment is completed, you then reap the rewards of perfect wheel angles at factory specifications including even tire tread wear, extended tire life, smooth riding, and reduced operating costs for tire replacement. Every service at our Lexus service center is executed by one of our many Lexus Master Certified Technicians.
Indicators of Poor Wheel Alignment
At Germain Lexus of Easton, we have a staple recommendation that is always fantastic - if you want to know precisely when to schedule 4-wheel alignment service, simply follow the recommended maintenance schedule in your Lexus owner's manual. Although this is the best way to know exactly when to schedule service, we also issue a secondary recommendation for Lexus owners to assess their tires monthly looking for any symptoms of poor wheel alignment showing up as rapid or uneven tire tread wear. Here is a list of the most common indicators of poor wheel alignment:
Rapid tread wear
Uneven tread wear
Cupping or balding wear patterns
Vehicle pulls to one side
A steering wheel is crooked while driving straight
Auto Alignment Service in Columbus, OH
If you are currently experiencing any of the indicators of poor wheel alignment, correcting the problem is convenient and effective at Germain Lexus of Easton with a four-wheel alignment service. We have the perfect Lexus Certified Technician for your auto work that will restore wheel angles to factory specifications. 4 wheel alignment is also a fantastic opportunity for an expert technician that knows your Lexus car or SUV inside and out to inspect the steering, handling, wear and tear, providing you with an opportunity to fix minor problems before they can get worse. Fixes like new wiper blades for example.
Service Hours
Monday

7:00 am - 6:00 pm

Tuesday

7:00 am - 6:00 pm

Wednesday

7:00 am - 6:00 pm

Thursday

7:00 am - 6:00 pm

Friday

7:00 am - 6:00 pm

Saturday

8:00 am - 4:00 pm

Sunday

Closed
Contact
Germain Lexus of Easton
Sales

:

614-474-8580

Service

:

855-615-5757